About us
Parenteral Nutrition Down Under Inc. (PNDU) is a self-funded, non-profit support group for consumers and carers in Australia and New Zealand on Home Parenteral Nutrition (HPN).
With HPN being a very complex and highly specialised life-support therapy, not knowing anyone else on HPN can be quite isolating and challenging. PNDU was established in early 2009 by a consumer (along with a couple of enthusiastic consumers, carers and a professor) passionate about support, best practice and equality for all HPN consumers (or 'HPNers', as we choose to call ourselves). As a group our mission is to 'support, research and inform consumers, carers and providers of Parenteral Nutrition for Intestinal Failure'. We aim to do this through this website (which includes lots of information and tips to help make life on HPN a little easier); our private and secure email group and closed Facebook group for Aussie and Kiwi HPNers and carers; our quarterly e-newsletter 'Dripline', our printed resources as well as member social gatherings. We are also involved in various projects, groups and conferences to help raise awareness of HPN, as well as being a founding member of PACIFHAN (International Alliance of Patient Organisations for Chronic Intestinal Failure & Home Artificial Nutrition).
PNDU welcomes new members – consumers and carers, clinicians, industry representatives and others generally interested in IF and/or PN. And please pass our information on to any Aussie or Kiwi HPNers you may know.
PNDU is a founding member of PACIFHAN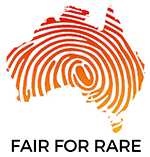 PNDU is a supporter of Fair for Rare
How do I become a member of PNDU?
All you have to do is to fill in our online membership form. It will take approximately 1 minute.